Wine history in Bacharach at the Rhine river
Altar rock to honor the wine God Bacchus
Bacharach at the Rhine river is not a Roman foundation, although it was referred to for a long time to the so-called Bacchusstein, the altar rock - latin "Bacchi ara". "Bacchi ara" was a slate rock in altar form in the Rhine river where, according to the legend, the wine God Bacchus was presented a sacrifice in good "wine years".
Unfortunately, this symbolic rock - it was between the island "Heilesen Werth" and the right Rhine river bank - was bombed away after 1850 during the Rhine river regulation. But it is known that Bacharach at the Rhine river existed before the Romans and its name can be traced back to the Celtic colonization - Baccaracum.
Vineyards belongted to the Koln / Cologne churches.
The first documentary mentioning of Bacharach at the Rhine river in the year 923. In further documents of the years 1019 / 1020, there is even talk about the assigment of vineyards and tithe rights to Cologne churches.
Most important trans-shipment center for wine
Bacharach at the Rhine river experienced its economical prosperity in the Middle Ages starting in the 13th century. Due to its convenient location at the Rhine river, it was the most important emporium, staple market and trans-shipment center for wine and wood. The economical downturn of Bacharach at the Rhine river started with the Thirty Years' War. In the aftermath, the town lost its supremacy as the biggest wine staple market, not least because of the noneconomical Rhine river tolls.
Savor the famous Bacharach Wine
Since this time, several excursion boats pushed their way through in place of the former floating crane between Munztor (coin gate) and Zolltor (toll gate). The passengers of these excursion day cruise boats, such as Victor Hugo, want to see and admire the Rhine river romantic in Bacharach at the Rhine river, but also enjoy the Bacharach Wine at wine tastings.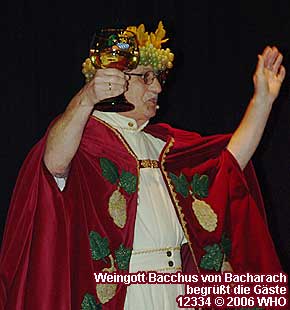 Wine God Bacchus from Bacharach welcomes the guests with maudlin words.
.

Bacharach Germany on the Rhine river
Hotels, bed and breakfasts, vacation rentals and apartments in Bacharach on Rhine river
Castle Stahleck by Bacharach, Rhine river
Ruins of Stahlberg, Bacharach-Steeg
Pictures from Bacharach in Germany with towers and a medieval historical town wall
Bacharach Germany town history
Rhine river banks, boat cruise on the Rhine river, romantic to fall in love
Planning a Rhine river cruise and want to see the most castles along the Rhine in one, two or three days?
Middle Rhine wine, wine tasting
Wine festivals in Bacharach Germany 2018 2019
Vacation packages day boat cruises with Rhine River Lights firework displays
Bike tours, biking, hiking, climbing, camping, surfing, fishing, swimming
---
Rhine Hotels Bed & Breakfasts
Rhine valley maps
Wine tasting in the romantic brick arch wine cellar, Wine hiking