Bacharach charming city on the Rhine river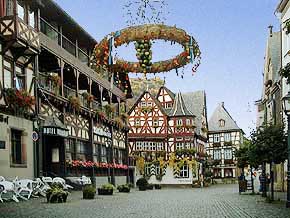 Bacharach, on the Rhine river.
The "Old House" on the market place.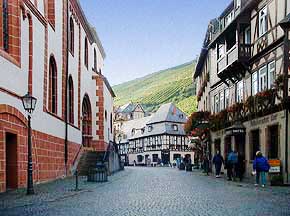 Bacharach, Rhine river, Blucherstreet.
On the left: the evangelic Peterskirche (Peters church)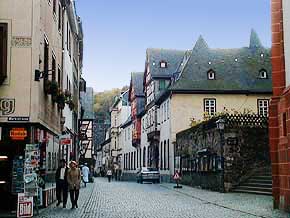 Bacharach, Rhine river, Oberstrasse
On the right: the Posthof (old mail yard) in the town center.
Historical monuments in Bacharach Germany
The Rhine river, the wine, the castles and towers – and the city Bacharach on the Rhine river.
Poets, artists and musicians of all centuries let their imagination and feelings run free during their visits in the medieval Bacharach.
Sung, composed, painted and experienced – for Brentano, Heine and Victor Hugo, the Rhine river was the romantic vacation destination.
And still today, the "venerable historical monuments" tell their songs and legends:
Listen to them!
.

Bacharach Germany on the Rhine river
Hotels, bed and breakfasts, vacation rentals and apartments in Bacharach on Rhine river
Castle Stahleck by Bacharach, Rhine river
Ruins of Stahlberg, Bacharach-Steeg
Pictures from Bacharach in Germany with towers and a medieval historical town wall
Bacharach Germany town history
Rhine river banks, boat cruise on the Rhine river, romantic to fall in love
Planning a Rhine river cruise and want to see the most castles along the Rhine in one, two or three days?
Middle Rhine wine, wine tasting
Wine festivals in Bacharach Germany 2020 2021
Vacation packages day boat cruises with Rhine River Lights firework displays
Bike tours, biking, hiking, climbing, camping, surfing, fishing, swimming
---
Rhine Hotels Bed & Breakfasts
Rhine valley maps
Wine tasting in the romantic brick arch wine cellar, Wine hiking